877

A Coy
878

Another shot from the Visit of the Director of S&T in the late 60s
879

3rd left back row, Willie ONeill, 2nd right front row Tom McSharry.
874

- -, Sean OCallaghan, Mick Shannon, Connie Morrissey, - -, Fr John OShea.
875

FCA Cadres, on GOCs in Gym
876

Lt SEan Fitzptrick and Mick Finucane RIP, another GOH
871

View of Sarsfield Barracks, pre 1970s
872

GOH, Shannon Airport
873

Rama Walsh, Mikey McEvoy, Willie OShaughnessy, Mick Tobin, Dicky Doyle, Jason Hannon, Mick OConnell.
868

John Coor, John Power RIP, Murty Hanley, Mick Corbett
869

Mick Gleeson, - -, Bill Hillard
870

View of Sarsfield Barracks
865

Engineers, Back, - -, - -, - -, Mick ORielly RIP, Murty Hanley. Front Ger Boland, Gerry Hayes, Cecil Healy RIP, Mikey Purcell RIP, Kevin -, - -,
866

Funeral of Petey Gardiner, left Cecil McMahon, Frankie Fitzgibbon, Harry Naughton, Joe Gardiner RIP, right Martin Gardiner RIP, TTony Kelliher RIP, Dessie Hyde RIP.
867

George Ryan, Mike Spud MUrphy, Mick Malone, Jimmy OSullivan, Cha Haran.
862

- -, - -, Stephen Boyce, MJ Hogan, Paul Fitz, - -, Rory Flynn
863

Col K Hanley RIP, Christy Tydings, Tony Slattery, Gerry Shine, - -
864

Donal OSullivan RIP
859

Jhn POwer RIP, Joe Young, Mick Minihane, Liam Fitzgerald
860

Ciara Quinn, Frankie Quinlivan, Tony McCarthy, Paul Hogan, - -.
861

John Lynch, Willie OShaughnessy
856

Billy Butler Super Trooper
857

Cyril Thompson and Mickey McEvoy, Cootehill 1977
858

Officer is Peter Richardson, Peter Gardiner on right.
853

Brian Reade, Rama Walsh, Ben Murphy
854

Brian Harding, Angela Alymer, Bridget McCormack, Murt -,
855

Brian OSullivan, Kevin OCallaghan, Maurice OLeary, Tom Murphy.
850

Billy Bourke, Tony Cock Ryan RIP, Kevin Walsh RIP, Johnny Organ, Tony Jackson RIP.
851

Recruit Pln, Front Row, Cecil McMaohon, Pul Smalle, Christy Lynch, Liam Liddy, JJ Kelly, Brian White, Paddy Kelly RIP. Mikes Kiely RIP, - -, Joe Duggan. 2nd Row, Gerry Barry, - -, John Hartigan, Kieran OConnell RIP, Joe Cronin, - -, - -, - -, Pat OCallaghan. Mick Noonan RIP, back row right.


852

Pat Deedigan, Eamonn ORiordan, John Mullane, Cyril Shanahan, Ken OBrien, Joe Hayes, Pat Hinchy, Friday Morning Club.


847

No details availble.
848

Gerry Enright, Bernie Blake NE, Tony Ledger, Vinny Lyons ONE, Ken OBrien, Mike McQuire RIP, ONE.
849

3rd Fld S&T on the ranges, 3rd right Johnny McCormack
844

Pat Hayes, Noel Kelly RIP, A Coy on Tour
845

Butcher OGrady, Mick Hogan, Denis Walsh RIP, Brendan OConnor
846

Ken OBrien, Pa Hogan, Joe Curtin, IUNVA Post 6, NCOs Mess St Patricks Day
841

Stan Hurley
842

3rd Jimmy Roche, left Joe Lysaght RIP
843

Back Row, Paul Hickey, Christy Delaney, Stephen Boyce,Billy Kiely, Kieran McEvoy, John Hickey, John Moore, Denis Walsh RIP. Front, Eddie Lillis, Colum RYan RIP, Madeline-, John Kelly, Lizzie Noonan, Arty OGrady.

880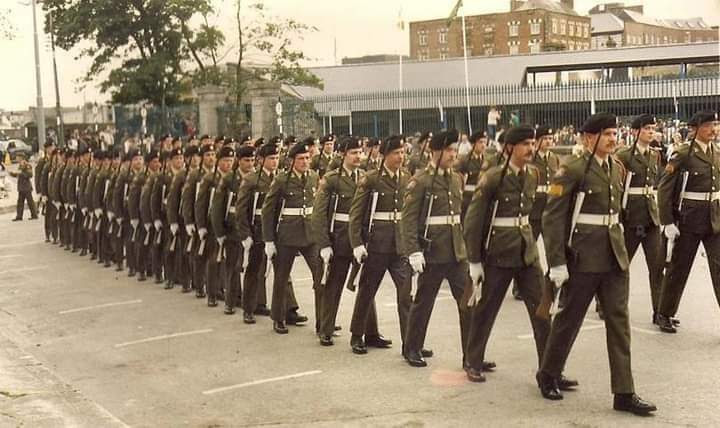 GOH, either opening of New Civic Hall or Potato Market. Joe Ryan, Mick Ryan, Noel Butler, Charlie Ingles, Tony Murphy RIP, Mick Boland ?, Dermot McNamara, Billy Butler, Mick Lysaght on left of Mick Ryan
1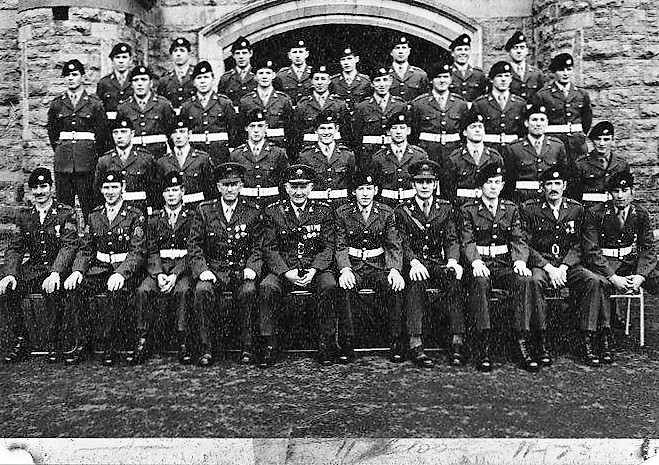 2nd right front row Tommy Dorney RIP. Seems to be a pln from 1973.
2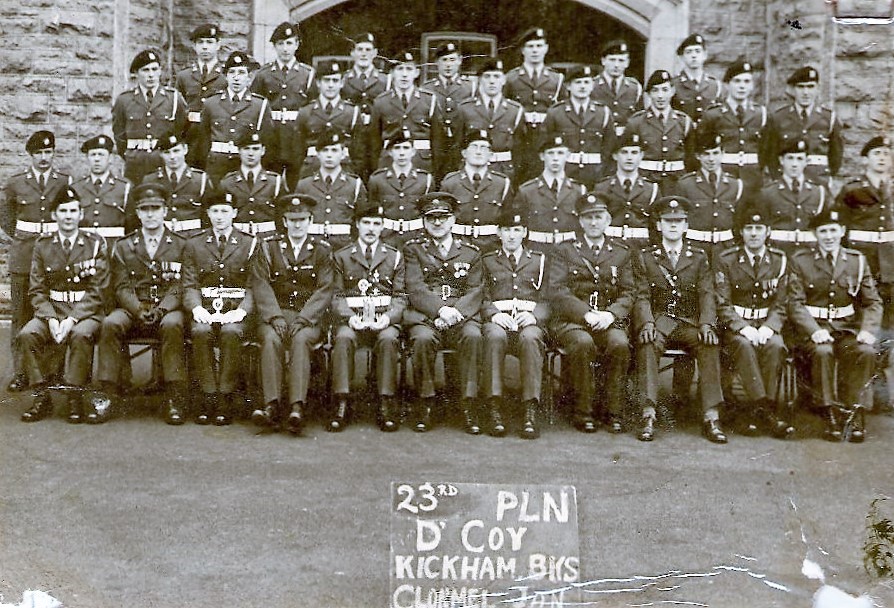 3rd left front Bobby Hamilton, 5th left Davy Gardiner, 4th left 2nd row, Joe Clarke, 3rd left 3rd row Billy Barrett, 4th left Gerry OBrien
3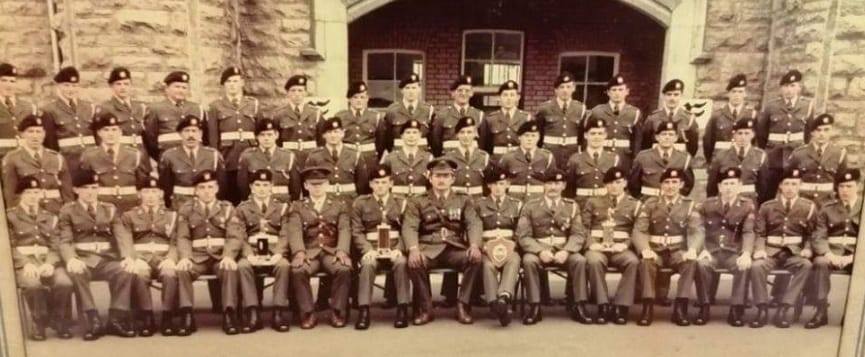 4

Master craftsmen, Vinny Lyons Tailor, Tom Leahy Cobbler, Brendan OConnor Barber.
5

Gerry Benson RIP, Christy OConnor
6

Davey Gardiner, Vinny Lyons, Christy OConnor
7

Johnny Barry RIP, Pat Hayes, Cecil McMahon, Ray Frawley RIP, Ger Frawley, Davey Browne
8

Mikey Cronin, Peter MacNamara, Johnny McCormack, Rory Flynn, Butcher OGrady, John Moloney.
9

Eddie OCarroll, Joe Kenneally, Ray Smyth, swapping Christmas presents.
10

ONE presentation to various. Front row centre Bernie Kelly, Mick Egan and Pat McNamara. Andy Murphy on right. Probably made all the presentations. Middle row, 7th left Paddy Hynes RIP, 11th Willie Massey, 13th Paddy OConnor RIP, 14th Punchy ODonnell, Centre back, Richie Brennan
11

Tom OCallaghan, Christy OConnor, Pat Togsy Cunneen
12

Eddie OCarroll, supervising the scores. Jim McNamar photobombing and Ger Ossum Fogarty RIP, watching on. It looks like Mick OConnell next along.
13

John Jeffers, Tony Keane, Donal OSullivan RIP, Stephen Kelly, Mick Glancy RIP, Aidan Anglim RIP, Jimmy OSullivan, Dom Walsh RIP, Paul Slattery, Patsy Walsh, Joe Blake RIP, Tommy Farrell, Liam Slattery, Eamon ORiordan. MPs on Parade
14

Front, John Kett, Mick OCallaghan, Ger OLeary RIP, Jerry Clohessy, - -, Tommy Coughlan, Noel Ahern RIP, Tom Dower, Joe ONeill, - -.
Back, Jackie Ward RIP, Jackie Clancy RIP, - ODonnell, Gerry Shine, - -, - -, Eoin Lynch RIP, - -, Knuckser OConnell RIP. Joe Blake RIP in rear.
15

Chris McCarthy and Peter Gunn
16

Back Row, Cyril Sharp Sauce ONeill, - -, Greg Zorro OHalloran, - -, Arty OGrady, PJ Hogan. Front, Bernard Ledger, Frank Hooker ORegan RIP, Ger Gardiner, John Crotty.
17

More Cooks,
Stephen Boyce, - -, - -, MJ Hogan, John Crotty, Frank Bennis
18

Rama Walsh, Joe Hayes, Murty Quinn, Eddie Doyle, Pat Deedigan, IUNVA Clothing Stores.
19

Christmas high jinks 1995. front Jimmy
ODonghue, Billy ODoherty, Ger Hartigan,
Paul Ledger. Back, John Haartigan,
Butcher OGrady, Santa( Gerry Barry), Mike McEvoy, Gary OConnor

20

Tom Murphy escaping from the gas chamber. Mandy Tobin issuing instructions to the other victims



21

Steve OShea, Con Roche, Jimmy Noonan
22

Rama Walsh, John Lynch, Nicky
McNamara, Paul Hogan, George
Griffin, Gerry Carmody, Dermot
Cummins, Patsy Walsh, Stan Hurley, Kevin Hanley, Charlie OLeary, Paul Ledger

23

Christy Egan, Peter Barret RIP, Eddie OByrne, - -, Mick Shine.

24

Pat OBrien, Gerry Hall, John Mullane, Tony OSullivan, Mick Flemming RIP. 12th Bn Pistol Team

25

Rama Walsh, Butcher OGrady, Willie OShaughnessy
26

Pat Hayes on camp.
27

John Lynch, being congratulated by
Bn CO Robbie Kiely
28

3 Ad Battery, back row, Gerry Cosgrave,
Joe Hayes, Dave Hyland RIP,
Paddy Doyle RIP.
Front, Dave Gardiner, Gerry Barry, - -,
Pakie Kelly, Paddy Carmody RIP, Danny Carroll, Mick Meehan.
29

No 3 Pln, 1972
30

Peter Organ, Johnny Organ,
31

Presentation to Mick Egan,
Tom Dower, Liam OCallaghan, Gus Clery
Willie OShaughnessy, Butcher OGrady,
Windy Hogan, Mick McEvoy,
Jamsie Walsh RIP, Declan OBrien RIP.
Frankie Quinlivan, Peader Fahy
32


33

Jim Bradshaw, Sean Quinlivan, Eddie Waters, Billy Hartigan, Clonmel 1965, 30th Pln. Thanks to Sean Quinlivan for supplying the name, he said Jim was from Callan in Kilkenny

34

Stand down Parade for
Larry OConnor RIP
35

Tony Byrnes, Peter McNamara,
Ger Boland, John Boland,
Johnny McCormack, Colm Ryan,
Colin Haugh. On stand by in
McKee Bks Kildare for Portlaoise Prison
36

Billy Butler, in charge of the gate.



37

Seamie Finucane, Paulie Power, cant
touch us we have the 4x2 to show how
important we are
38

Christy Pickford, - -, Ger Carmody,
Billy Curtin
39



40

Mick Timmons, Arty OGrady, Pat Duffy
41

Mick Timmons, Mikes Kiely RIP,
Martin Kiely
42

Tony Kelliher RIP, Dermot Hickey,
Mattie Gardiner

43

GOH, Paul John Paul 11, 1979.
From left Tony Lynch RIP, Mick Boland, Pat Brinn RIP. Officer Dermot Murphy



44

From Left, Peter Daly, Arthur Riordan RIP,
Joe Touchstone RIP, Larry OConnor RIP,
Frank Kiely RIP, Peter Organ, PaddyCuddihy RIP, Paddy Franklin, Billy OBrien RIP, Pakie Noonan RIP, Ger Gosgrave. On the
occasion of Billy OBrien's retirement

45

Billy Bushmills McNamara RIP,
Terry Casey
46

Friday Club, visit to Sarsfield Barracks
Feb,19. Photo Rama
47

John Mullane, Tony Kelliher RIP, Mick
Behan
48

John Price, Dave McInerney, Frankie
Quinlivan, Gary OConnor, Anthony
McNally, Mick Corbett in the rear
49

Cyril Shanahan, Willie Keane RIP, Dermot
OKeffee, Tommy Carroll
50

Dusty OReilly, Rama Walsh, Damien
OReilly. Photo Rama
51

Emma Harris, Emmet Lundy, Dutchy
Holland
52

National Day of Commenoration 2017,
Photo Rama
53

Colum Ryan RIP, Foncie Franklin.
54

Dusty OReilly, Paul Hogan
55

Christmas Jinks, Josh Carroll, Paddy
McCormack RIP, Ger Healy, Billy
McNamara, Denis Cusack, Santa, Ger
Gardiner, Charlie Hennigar, - -, - -,
Johnny Kiely RIP, - -, John Doyle RIP
56

Presentation Taj, - -, Sean OCallaghan,
Mick Shannon RIP, Connie Morrisey, - -,
Fr John OShea. Left in background Ben
Murphy
57

Tony Millar 4th left Back Row.
Photo John Thompson
58

Blessing of the Shamrock, 19, Father
Piotr. Photo Rama
59

Father Piotr with the Barrack Choir,
Brian Lynch, Pa Hogan, Ger Kiely, Vinny
Lyons, Pa Flynn, Mick Carroll, Gerry
Frawley, Ger Enright, Pat McCormack,
John Mullane, - Frawley.
Photo Rama
60

Neville Furlong RIP, Pat OHalloran 2nd
Right Back and Mark Somers
Right Back.
Photo John Thompson
61

Mayoral GOH, Saint Patricks Day 19,
Photo Rama
62

IUNVA Post 6, Saint Patricks Day Parade
19, Photo Rama
63

Ptes Crowley, Fennessy, Andy Tobin,
Ptes Donegan and Hannigan
Photo John Thompson
64

John Thompson and John Murray, in
charge of the gate, Saint Patricks Day 19.
Photo Rama
65

Yes Sir, I grew it myself, Butcher OGrady.
Photo Rama
66

Paul McGahern 2nd left Front Row,
Jimmy ODonoghue 3rd Right, Joe
Hanley 15th Bn right, Front Row
Photo John Thompson
67

2nd row, from left, Pat Skippy Kelly RIP,
Gerry Williams, 4th Pat Prendeville, 3rd
Row 5th left Brendan OConnor, right
John Boy Relihan. Back Row left Martin
Bedford,
68

Pat Deedigan, Eamonn Riordan, John Mullane, Cyril Shanahan,
Ken OBrien, Joe Hayes, Pat Hinchy
69

Aidan Bourke 3rd Right, Joe Cooney 5th,
Joe Copper neck OConnor 9th and Foxy
Morrissey 10th, Back Row.Photo CS John
Thompson BSC
70

Mick Barry RIP, 5th from left standing.
Any other names please.
Photo Supplied by John Thompson
71
Photo supplied by John Thompson

72

Photo supplied by John Thompson
73

Gerry Carroll, Sonny Deloughrey RIP.



74
Stan Hurley, centre.
Photo supplied by John Thompson

75

Centre Back Row, Tony Millar
Photo supplied by John Thompson
76

Photo supplied by John Thompson
77

Tony Grant, Son of Felix Grant, first Irish
soldier to die on UN service, at his memorial
in Sarsfield Barracks
Photo, Rama Walsh

78

Andy Tobin, 4th left back row.
Photo supplied by John Thompson
79

Tommy Nevin, John Holden,
Mick Dolan, Tom McGrath, Tom Grace,
Gerry Fitzgerald,
Seamus Dolan and Paddy Dolan,
Clonmel Vets day out
80

Willie Halley and Fintan Mulowney RIP.
Photo Paul Halley

81

At the ready, Fish Ahern, Paul Hogan,
Noel Kelly and Rama Walsh.
82
Memorial Mass for Aengus Murphy, Sarsfield Barracks 2018.Martin Fitzpatrick, Mick Egan, Packie Kelly, Tony Stack, Brian OConnor, Comdt OSuliva, Colm Doyle, Keiran Jordan, Liam Slattery, Pa Hogan, Ken OBrien, Ger Doyle, Willie
OShaughnessy, Fr Brian Whelan, Joe Hayes, John McDonnell, Ger Enright, Gerry ODoherty.
Photo, Rama Walsh
83
Photo supplied by John Thompson

84
No 16 Pln, Dec 74, Martin Culligan, 2nd row left. Not sure of some of the others

85
No 9 PLN, Clonmel, 1973, included. Steve OShea 3rd from right second row. Ben OBrien second left front row, Jimmy McKell and Tommy Dorney both RIP on right of front row.
86
12 Bn shooting Teams. Sean OMeara RIP, Ned Spillane, Tony OSullivan, Paddy Flynn, - -, - -, Frank Houlihan, Gerry Barry, Mick Flemming, Billy McNamara, Pat OBrien, John Graham, John Murray, - -, - -, Mick Carroll, Tom Murphy, John ONeill, Mick Consatble, Brian Lynch, John Tolton, Willie Hogan, Dave Kerin, - -.
87
S/Comd 12Bn Shooting Teams 1992Back row, Paul ODwyer, Dermot McNamara, Pat OCallaghan, Brian McMahon,Mick ODwyer, Alan LeBlanc, Hoppy Keogh, Dave Kerin, Phoncie Frankilin.Middle row, Tony OSullivan, John Cooney, Gerry Fitzgerlad, Tac ONeill, Keiran Jordan Gerry Barry, Davey Harris, Liam Keogh (Hoppy 2).Front, Brendan Healy, Ned Spillane, Seamie Dolan, Seamie McGrath, Brian Lynch, John Toltan, Mick Constable.
88
Clonmel, manouveres in the Racecourse, included, back row, 8 th from left Ritchie Crowe, 9th Mick Finnan, right Martin Culligan, Front, 4th from left Frankie Connolly, 9th Mick Flemming
89


C Cullinane, Lt Col Carey, Tom OKeffee, Tom Murphy

90

Pat Hannon, Frankie Fitzgibbon

91

Gerry Hanley, RIP, Peter McNamara,
Rita Gardiner RIP, Martin Gardiner RIP

92

Gareth McNamara RIP

93

A BFW and Engs photo, quality not great

94

Diagram of 58 Pattern webbing,
British Army layout

95

Terry Harris RIP, Andrew Bourke 1975

96

Willie Maher, Andrew Bourke, Tony Deloughrey



Noel OCallaghan, 1st Fld Sigs on manouvers
98

Jim McNamara, Niall Breen,
Mick Timmons, Colin Haugh,
Bernard McCarthy RIP, Hughie Ryan

99

Pre Retirement Course, - -, Benji ORiordan, Mick Meagher, John Doyle RIP, - -, Frank ORegan RIP, Jim Deveraux, Billy Fisher, Slim Ryan RIP. Harry Naughton, Willie Keane, - -, Benji Leahy, Fhoncie Franklin, Charlie Ryan RIP, Paddy Carmody, - -

100

PNO Course, - -, - -, Paddy Hanlon RIP,
Cecil McMahon, - -, Rocky Ryan RIP, - -,
Frank Fitzgibbon RIP, - -, - -. - -. Middle,
- -, - -, Ger Quaid, Willie Lawlor, - -,
Sean Foley, Paddy Cuddihy RIP, - -,
Tommy Whelan, Gerry Thompson RIP,
Johnny Barry RIP, Eddie OCarroll,
Martin Bedford. Front. Togsie Cunneen,
- -, Pat Hayes, Johnny Organ,
Tony OSullivan, - -, - -, Colm Doyle,
Philip Smith, Sean Kiely, John Kett,
Ray Frawley RIP, Christy Kelly

101

Tommy Naughton, Paddy Flynn,
Rocky Ryan RIP

102

Martin Behan RIP, Johhny Butler RIP, - -, Ger Hogan RIP, Sean -, - -, Pakie ODoonoghue RIP, Blondie Fitzpatrick, - -, Hugie Ryan, Willie OConnell
103

Paul Fitzgerald ?, Richard Slattery,
Tony Liddy, Niall Breen, Denis Carroll,
Fish Ahern, Paul Dillon, Niall Bennis,
Mick Timmons, Chris McCarthy,
Martin Fitzgerald, Colin Haugh

104

Happy ODwyer RIP, Shane Malone on Parade,
Tony Daly

105

- Tobin, Mick Benn RIP,
Mick Finucane RIP


107

JP McManus, making a presentation
to those that helped steward the
JP McManus Classic.
Front, Tommy Farrell,
Eamonn ORiordan, JP McManus, - -,
Blackie Lysaght, Joe Touchstone RIP.
Back - -, - -,- -, Tony Wallace,
John Hartigan, - -,
Photo Credit Stephen Kelly

108

Mick Woodland rushing to buy drinks
for Gary OConnor and Rama Walsh

109

Paddy Cuddihy RIP, John Corrigan

110


Attending the Funeral of Mick Kennedy,
Ken OBrien, Ger Purcell, Rama Walsh,
Donal Looney, Willie ONeill, Vinny Lyons,
Willie Keane, Sean Casey

111

Honour Party at Mass for Deceased
Members 2017.

112

From Front Clock wise, Colum Ryan,
Muddy Mescall, Kevin Hanley, - -,
Tony Gardiner, Jame Keane, Colin Haugh,
Ger Micks, Happy ODwyer RIP,
Jimmy OSullivan

113

BFW card game, John Shine, Noel Quinn RIP,
Paul Williams, Christy Ryan RIP

114

Attending Mass for Deceased Members
in Sarsfield Barracks 2017. Eamonn Quaid, John Mullane, Billy McNamara,
Pakie Kelly, Ken OBrien, Willie Treacy,
Billy McNamara, Kevin Egan, Pa Hogan,
Colin Haugh, Tony Hayes, Joe Hayes,

115

Honour Guard for Annual Deceased
Members Commemoration

116

Cha Haran, Billy Morgan

117

Pat ODonovan, Frank Greaney

118

Jerome Deloughrey, Sean OCallaghan,
Declan Fitzgerald, Tony DeLoughrey,
Dave McInerney

119

Back Row, Mick OConnell, Ray Smith, Johnny
Mullane, John Flanagan,
Ger Ossum Fogarty RIP,
Tony Stack, Eddie Byrnes RIP,
Mick ODonnell RIP,
Jim Horse McNamara, Martin Bedford,
Eddie OCarroll, Pakie ODonoghue. RIP.
Front Row, Denis Cusack, Martin
Blondie Fitzpatrick, Eddie
Coady, Mick Brosnahan.

120

Liam Slattery, Paul Slattery, Paddy Flynn

121

Fr Seamus Madigan, Fr Brian Whelan

122

Tadgh McCarthy, John Thompson


123

John Thompson and Tadgh McCarthy
doing a bit of gardening

124

22Bn Cadre, Gerry Mullins,
Mick Shanahan, Christy Enright RIP,
Noel Roche, Con Leigh,
Synan OCallaghan

125

Rama battle ready

126

Tony Cock Ryan RIP, Johnny Organ

127

Richard Slattery, Paul Fitzgeral, Paul Dillon.

128

Front Row, Pat Dillon, tall Officer Eamon Siggins, Middle, Stevie Keogh, Gerry Willimas, Back, 3rd Stephen OConnor RIP, John Lynch,
Terry Casey, Joe OConnor, Frank Walsh,
Christy Enright RIP

129

GOCs
130

Tom OLeary, Noel Kelly, Christy Delaney,
Jim Kelly, - -, Stan Hurley, Mick Reddan,
Mike Hogan

131

Gerry Mitchell and Pat Hinchy,

132

PLn Reunion
133

Do not know which Pln this is, not the 31st.

134

For a few years, the 12th Bn have taken
part in the Annual Limerick clean up,
this is the crew from 2017
135

John Murray on the right, overseeing
the feeding of the heli crew
136

Ned Spillane, Christy Holmes,
Rama Walsh, Liam Smith
137

- -, Donie Ahern

138

Pot NCOs Course, Willie OConnell,
Pat OBrien, Sean Hickey, Paddy Gleeson

139

A young Gerry OBrien in Clonmel, 1975
140

Peter McNamara, Ronny Flynn, Seamie
Martin, Willie OConnell, Mikes Kiely RIP,
Tommy McMahon, Mick Egan
141

Sean OMeara, Des Connolly
142

Tommy McMahon, Seamie Martin,
Peter McNamara
143

Presentation to Comdt Moroney,
NCOs Mess, Paddy Cuddihy RIP,
Colum Ryan RIP, Goff Ledger,
144

Presentation to Rory Sheerin by TJ Ryan
on his promotion
145

Stan Hurley, Willie Quinn, - McMahon, Noel Kelly on his retirement, Peter Organ, Tony Daly


146

Paul Dillon, - -, Noel (Hank) Butler,
Mick Corbett, John Mullane, Frosty
McCormack, Mick Deegan,
Tony Gardiner
147

Pat Hanley, Kevin Hayes RIP,
Tommy Naughton, Tony Hickey
148

Jim McNamara, Willie OConnell,
Pakie ODonoghue RIP, Tommy McMahon,
Blondie Fitzpatrick, Seamie Martin,
Mick McMahon
149

Mick McMahon and Peter McNamara,
in Lourdes
150

John Fennessy presentation on his
retirement.
151

Tommy McMahon, Seamie Martin,
Mick Egan, Mikes Kiely RIP
152

John Fennessy, George Ryan
153

Kilcornan Range does not look like this
most of the time
154

Liam Daly RIP, Tom Costelloe,
Donal OSullivan RIP
155

GOCs with Jimmy Farrell, John Mulready,
Martin OConnor, Mick Woodland, Noel
Meade RIP, Spoon Ryan, Jim Kelly, Billy McNamara, Back Eamon Mullane, Paddy
Considine
156

Friday Club, Mick Duffy, Pat Deedigan,
Bengi Riordan, Murty Hanley,
Johnny Cantillon, Cyril Shanahan,
Pa Hogan, Billy McNamara, Chris Barr,
Denis Carroll
157

Gerry Brosnan, Pat Nash, no bother Sir
158

FCA Cadres on the Range
159

Bengi Riordan, Murty Hanley,
Mick ODonnell RIP, Ken OBrien,
Mick ODriscoll, Dave McInerney,
Denis Carroll, Chris Barr,
attending the Friday Club.
160

Friday Club, Ken OBrien, Pat Deedigan,
Eddie Higgins, Joe Hayes, Pat Hinchey,
Sean Collopy, Harry Byrnes, Gerry Barry,
Pa Hogan
161

Andy Sullivan, Terry Casey, - -, - -,
Mick Hickey, Tom Dower, John Murray,
- -, John ONeill, Billy McNamara,
Ray Smith, Gerry Dineen
162



163

Coy Exercise in Kilworth
164



165

Alan Hannafin, Jerome Deloughrey,
Andy Tobin
166

Billy McNamara, Mick Carroll,
Gerry Kelly RIP
167

Engineers on Camp, Jim Deveraux RIP,
Pat Hinchy
168

Pipe Band in Lourdes, Mick Egan,
Hughie Ryan, Jim McNamara,
Ronny Flynn, Willie OConnell,
Pakie ODonoghue RIP,
Tommy McMahon, Peter McNamara
at back
169

Tadgh McCarthy, No problem Sir,
I will take the parade.
170

Back Row, Pakie Kelly 2nd Left, Mick
Timber ONeill 8th left, 3rd Row, Robbie
Robinson 4th Left, Pa Hogan 5th,
2nd Row, Christy Bardini 2nd Left,
Tommy whelan 4th Right, Front Row
Johnny Barry RIP 6th Left, Ben OBrien
2nd Right
171

2016 Commemoration Ceremony Sarsfied Barracks, Opening of Memorial Garden
and planting of Trees
172

Back Row 3rd left Saw Leamy,
6th Billy Curtin, 7th Christian OBrien,
13th Ger Gardiner.
2nd Row John Lou Hayes 3rd left,
Rama Walsh 5th, 12th Anthony McNally,
13th John Mulready, Front Row,
173

Willie OShaugnessy, sand bagging again

174

Tommy Hudson, - -, - -, - Healy, - -,
Alex ONeill, Lt OBrien

175



176

Willie Keane stand down, Jim Boyle RIP,
Tom Grace, Danny Nugent RIP,
177

Officers and Senior NCOs, Willie Keane
Stand Down
178

Stand Down
179

Willie Keane RIP, Phoncie Franklin
180


181

Willie OConnell, Peter McNamara
182

Windy Hogan, Sean Hickey,
Mick McNamara, Larry Johnston,
Ken OBrien, Pakie Kelly, Willie
OShaughnessy
183

I see him
184

Willie Frawley, Dessie Hyde RIP,
Tommy Farrell, Tony Kelliher RIP,
Davie Constable RIP
185

Uniform through the Ages Treaty 300,
Donal Looney, John Tolton,
Niall McMahon, Billy ODoherty,
Brian Lynch, John ONeill
186

Willie Frawley, Willie OShaughnessy,
Stephen Kelly
187

Where am I,
188

Visit of John Paul 11, Robby Robinson
looks on
189

Windy Hogan, Larry Johnson, Willie OShaughnessy, Ken OBrien
190

Willie Frawley, Stephen Kelly
191

Visit of Dir S&T
192

Visit of Dir of S&T, Harry Naughton
3rd left
193

Staff of the Dir of S&T
194

Tony Wallace, Frank kiely RIP, Niall
McMahon
195

View of old Taj and Dinning Hall
196

Visit of Dir of S&T to Sarsfield Barracks.
197

Tony Ryan, Willie Quinn,
Nicky McNamara, Declan Fitz
198

Trophy presentation Clonmel, included
Pat McGarry, Willie Keane RIP,
Ben OBrien
199

Tony Stack, Liam McMarlowe RIP,
John ONeill, what are we looking for
Tony,
200

- Tony Stack, Rama Walsh
201

Terry Punch, John Laing RIP,
Frank ORegan RIP
202

Tony Ryan, Declan Fitz, Rama Walsh,
203

Tommy Dorney RIP, Tucker Power RIP
204

Tommy RIP, Dusty, Rama
205

Tony Lynch RIP, Eoin Lynch RIP, John Kett,
UN Peace Medal issue
206

Tom ODea, hooking up
207

Tom ODea, Cha Haran, Barney Ryan RIP, Eamon Quaid
208

Tommy Carroll RIP
209

Johnny Organ, Tony Jackson
210

Togsie Cunneen, Rama Walsh
211

PT Test, Tom Costelloe, Aidan Bourke,
John Hickey, Gerry Kelly RIP,
Stan Hurley, Jerome Deloughrey,
Nicky McNamara
212

Stan Hurley, Terry Casey, Mick Carroll,
Frank Meaney
213

Timber ONeill, whats the baud rate
214

- -, Tony Ledger, - -, Mick Considine,
Butcher OGrady
215

Brian Lynch, John ONeill, John Tolton,
Paulie Power, John Lynch,
Mike Considine, RamaWalsh,
John Murray
216

I think they are that way, includes,
John Moloney, Noel Omara
217

That way Noel,
218

The Bullman's on parade
219

Ladies Day
220

Ladies again
221

Eamonn Siggins, Dave Kelly RIP, Foxy
Morrissey
222

Liam OCallaghan, Peader Fahy,
Rama Walsh, Tony Hannon,
John Thompson, Mike OConnor,
Ger Carmody, Rory Flynn
223

Rama Walsh, Mike OConnell,
Mikey McEvoy, Gus Cleary, Philip Hayes
224

Tony Hickey, Billy McGrath, Colm Doyle,
Tony Jackson RIP, Colum Ryan RIP
225

Tony Hannon, Rory Flynn, Cyril McSweeney, Billy Curtin, Tony OSullivan
226

Mousey Hannon, Dusty OReilly,
Mikey Cronin
227

Tom Dower, Mike OConnor, Rama Walsh
228

Tex Regan RIP, John Power RIP,
Micky McMahon RIP
229

Tony Gardiner, Butcher OGrady
230

Terry Casey, Jerome Deloughrey
231

Tom Dower, Mike OConnor, - -,
Rama Walsh
232

Tom Dower, Eddie Mason RIP, Johnny
Barry RIP
233

Tommy Boyce, Joe Lysaght RIP
234

Tommy Boyce, Paul Hogan, John Tolton, Paulie Power
235

Terry Casey giving instructions,
Dave McInerney looking on
236

Tony Stack digging, Dave McInerney
Covering
237

On the move, - -, Terry Casey,
Frank Meaney, Tony Ryan
238

Noel Butler, Eric Flynn, Tony Hickey,
Mick ODonnell RIP, Stan Harte,
Tony Liddy, opening of Taj
239

Tom ODea, Barney Ryan RIP, Mick
Malone, Ger Hannon
240

Tommy Boyce, enjoying the food
241

Terry Punch, Rama Walsh
242

Stan Hurley, John Mullane
243

Stan cooking the Dinner
244

Willie Keane's retirement, Jimmy Farrell,
Mrs Keane, Willie Keane RIP, JJ Killeen
841

Stan Hurley
245

Stephen OConnor RIP, Mary OConnor
246

Tommy Carroll, Tony Kelliher RIP
247

Sean OConnor RIP, Frank ORegan RIP,
John Doyle RIP
248

Donal Looney, Dermot Cummins,
5th Andy Cawley,
249

Any spare pints, Willie Treacy, Seamie
Finucane, Liam OCallaghan,
John Moloney, Noel Kelly, Rama Walsh,
Dave McInerney
250

Tony OSullivan, Tony Daly, Cyril
Shanahan, Colm Doyle, Gerry Carroll,
Billy McNamara, Willie OShaughnessy,
Gerry Cosgrave, Gerry Irwin RIP, Alec
ONeill, Tom Dower, John Mullane,
Peter Organ, Paddy Franklin, - -
251

Exercise in Kilworth, photo Mick Bullman
252

Camoflage Course, Back left Rocky Ryan
RIP, Left Brian Lenihan, Right 3rd Row
Niall Gorey,
Left second row Mick Bullman
253

Stephen Kelly, Pat Hinchey, Andy Tobin
254

Skills at work, Patsy Walsh, Paul Hogan,
Pat McCormack, Gerry Barry, Fish Ahern,
Seamie Finucane, Noel Mulcahy,
John Lynch, John ONeill, Mike OConnor
255

Slim Ryan jnr enjoying a pint
256

Paul Hogan, Connie Morrissey, Tony
Hannon, Mickey Cronin, Peader Fahy
257

Rory Flynn, Mick Finucane RIP,
Cyr Thompson, Blackie Lysaght,
Butcher OGrady, Jamsie Walsh RIP,
Frankie Quinlivan, Paul Hogan,
Martin OConnor RIP, Paul Halley,
Denis Carroll
258

Cyr Thompson, Denis Carroll,
Willie OShaughnessy, Butcher OGrady,
Brian McMahon, Pat Hanley
259

Gerry Hall, Gary Kirwan, Stan Harte,
Butcher OGrady, Gunga Hayes, Tadgh
McCarthy, Mick Deegan, Martin OConnor,
Mick Bourke, Gary OConnor, Tony Stack,
Paul Hogan, - -, Pakie ODonoghue RIP,
Arty OGrady, Denis Walsh, Mick Lane,
Stan Hurley, Mick Gleeson, Mick
Brosnahan, John Laing RIP

260

Rescue of Billy Bushmills

261

Willie OShaughnessy posing, Pakie Kelly,
Frank Greaney
262

Stan Hurley, Terry Casey, Mick Carroll,
Frank Meaney, Gerry Ralph, Willie Quinn
263

Shannon rescue, Spud Murphy, Noel Kelly, Willie Hogan
264

Willie Bushmills McNamara RIP,
Dusty OReilly receiving solace.
265

Sean Hickey, Mick Brosnahan, Mick
Finucane RIP, Jamsie Walsh RIP, Paul Hogan
266

Brian OConnor needing resuce in
Shannon
267

Take them to the Taj,
Martin OConnor RIP in charge,
Gerry Hall looks on
268

Brendan McNamara, having fun at the
demolished Petrol Pumps, Eric Flynn
and Harry Naughton discuss, in the
background.
269

Sean Foley and Mick Day RIP socialise
270

Gerry Dineen, Billy McNamara
271

Tony Skinny McCoramck RIP, Nicky
Hogan, Clonmel
272

Ariel view of Barracks 1990s
273

Frankie Dwane, Leonard Devine,
Pat ODonovan, Ben OBrien,
Philip Brennan, Derek Lambe,
Philip Fitzgerald, Seamus Dolan,
274

Rama and his pal in the museum.
275

Rama Walsh, Colin Haugh relaxing in
Kilworth
276

View of Barracks, including Timber Huts.
277

Rama Walsh, Neil McDonnell, Donal Looney
278

Rama Walsh, Donal Enright,
Shane Malone
279

Colum Ryan RIP, George Ryan
280

Road Runners, Willie Quinn,
Mick Carroll, Mick Tobin, Paul Ledger,
Stan Hurley, Gerry Williams,
Tommy Boyce, Kevin Hanley,
John Corbett, Frank Meany,
Billy Fisher
281

Rocky Ryan RIP
282
Rory Flynn, Antoin OConnor RIP, Willie OShaughnessy
283

Rory Flynn, Mick Carroll, security duty
284

Ritchie Brennan, Joe Lysaght RIP,
Pudsy Lysaght
285

Ministerial GOH, Ritchie Crowe 2nd Right
286

MPs retirement party,
287

Pln Reunion, 30th Anniversary, Joe -,
Spoon Ryan, Mick Gleeson, Bill Hillard,
John Thompson, John Corbett,
Paul Ledger, Pat OBrien, John Mullane,
Eamon Mullane, Gary Ledger,
Pat Deedigan, Mick Finucane,
Dermot Gleeson, Stan Hurley,
Butcher OGrady, Eddie Lillis
288

Rory Flynn, Jamsie Walsh RIP,
Cyr Thompson
289

Rec Pln Clonmel, Middle Row, Lou Hayes
3rd, Rama Walsh 5th, Anthony McNally
and John Mulready 6th and 5th from
Right, Seanie Cosgrave right. Back Row,
Gary Daly 1st, Saw Leamy 3rd, Liam
Kenny 5th, Billy Curtin 6th, Christian
OBrien 7th, Ger Gardiner 13th
290

Liam Kenny, Gary Daly, John Mulready,
291

Housewife and Cleaning Kit
292

Joe Curtin, Pat OBrien, Knuckser
OConnell RIP, Mikey McEvoy, Eugene Doyle
292

Ray Hehir, Declan OBrien RIP
294

Rec PLn, Limerick, Cecil McMahon, Paul
Smalle, Christy Lynch, - -, - -, Brian White,
Paddy Kelly RIP, Mikes Kiely RIP, - -, Joe Duggan. Gerry Barry, - -, John Hartigan,
Kieran OConnell, Joe Cronin, - -, - -, - -, - -,
Mick Noonan RIP, back right

295
BAP shoot in Kilworth
296

Paste up lads
297

Preparing for Falling Plates Shoot,
Curragh
298

On Kilcoran range
299

Is this what you do, Rama in action
300

Jerome supervising the BAP Shoot
301

Rama, Bushmills RIP and Brendan OConnor
302

Mick Considine, Rama Walsh, Joe Nash,
Kevin OCallaghan, Paulie Power, Willie
Quinn
303

Rama, Mick Gleeson
304

Rusty Keane, Bill Dollard RIP,
Joe Gardiner RIP
305

Rama, in the Park
306

Rama on the Ranges
307

Pt Walk, included, Mick ODonnell RIP,
Niall Breen, John Hickey
308

Punchy ODonnell flying in the Gym
309

50th Anniversary Dinner, Gerry Frawley,
Dermot McNamara, Terry Punch, Tony
Kelliher RIP, Frank Oregan RIP, Declan
OBrien RIP,Ray Hehir, Billy McNamara,
John Laing RIP
310

MP presentation to Mick Glancy
311

Presentation to Mathew Fitzgerald,
Blackie Lysaght, Mick Egan, Mick OBrien,
Mathew Fitzgerald, John Doyle RIP,
Ray Frawley RIP, John Power RIP,
Dessie Hyde RIP, Gerry Frawley, PJ Hogan,
Johnny Barry RIP, Pat Rainsford,
Tony Ryan RIP, Johnny Organ,
Cecil McMahon, Rocky Ryan RIP,
Martin Fitzpatrick, Paddy Kelly,
Tom Dower, Terry Punch, Tony Ledger,
PJ Meagher
312

Presentation to Young Munster RC, John
OShea, Noel Moloney, - Fitzy,
Gerry Quaid, Mick Shannon,
Arthur Riordan RIP,
313

Kevin Hanley, John Crbett, Stan Hurley and Noel Kelly RIP in the background

314
Presentation of Service Medal, 4th left
Larry Murphy, 5th John Lynch,
6th M Nugent, 7th Mick Mcgyver
Kennedy RIP.
315

All army Shoot presentation to
John Graham
316

NCOs Course 1980, G Williams, Mick OConnell, Mick Finucane
317

Opening of Potato Market, Brian Ryan,
Charlie Haughey, - -, Niall Breen,
Dermot McNamara, - -,
Brendan OConnor, Mick Lysaght,
Jimmy ODonoghue, John Moloney
318

- -, Paddy McCormack RIP, - -, Noel Kelly,
Donal Looney, Pat McCormack, Pa Flynn,
Paddy Dolan, Jerome Deloughrey, Martin
Bedford, Vinny Strang, John Moore
319

Pat OBrien, Mick ODonnell RIP,
Donal Looney, depth finding on
Lock Muchno
320

Pool Time, Sonny Deloughrey,
Gerry Williams, Rama Walsh,
John Crotty, Tom Leahy,
Willie OShaughnessy, Pat OBrien,
Liam Slattery, Nicky McNamara,
Mick Woodland, - -, Brian McMahon,
Billy McNamara, Dave McInerney,
Tony Deloughrey, Tom -,
Brendan McNamara,
Jerome Deloughrey, Mikey McEvoy,
Butcher OGrady, E Harris,


Postman, Joe Kenneally
322

12 Bn Fashion Show, Pat OBrien,
Gary Ledger, Mike Keane, Gerry Hall,
actually Comd Orienteering
323

Ex Faranfore, Paul OBrien RIP,
Ken OBrien
324

Pat OBrien, Mattie Gardiner,
Frank Walsh
325

PJ Hogan
326

PJ Hogan, Jim Ryan
327

Pat OBrien, abseiling class
328

Tommy McMahon


329

Mick Timmons, Johnny Sticks,
Pakie ODonoghue RIP, Denis Carroll,
Ray Keane, - -, Paul OBrien RIP,
Mikes Kiely RIP

330

PJ Hogan, Connie Morrissey
331

Pipe Band in Saint Patricks Day Parade,
Willie OConnell, Paul OBrien RIP,
Peter McNamara
332

Paul Fitzgerald, Mick Timmons, Pakie
ODonoghue RIP, - -, Tony Liddy, - -,
Denis Carroll, Fish Ahern, - Slattery,
Chris McCarthy, Paul OBrien RIP, Paul
Dillon, Niall Breen, Blondie Fitzpatrick,
Hughie Ryan, Johnny Sticks, Frankie
Bennis
333

Pipe Band,
334

Pipe Band and Honour Guard,
left Mikes Kiely RIP, Jim McNamara,
Mick Timmons, Base drum Denis Carroll, right Paul OBrien RIP
335

Pipe Band in Clonmel, Vinny Lyons,
Willie OConnell, Johnny Butler RIP,
Paul OBrien RIP, Mick McMahon,
Connie Morrissey, Base Peter McNamara,
Pakie
ODonoghue RIP, Mick Timmons
336

Pipe Band in the Gym. GOCs, MIkes Kiely
RIP, Paul OBrien RIP, Mick Timmons,
Denis Carroll, Pakie ODonoghue RIP,
Jim McNamara, Johnny Sticks
337

Paul Halley, Pat Deedigan, Noel Roche
338


Pat Hanley, Johnny McCormack

339

Paul ODwyer, Johnny Sticks RIP,
Willie Keane RIP,
Stand Down Parade

340

Rama Walsh, Fish Ahern, Willie QUinn, Noel Kelly, Frankie Quinlivan, Peader Fahy, Willie OShaughnessy
341

Willie Halley, Pat Deedigan
342

Pipe Band Saint Patricks Day Parade
343

Niall McMahon, Frank Kiely RIP, Tony Wallace, Paddy Franklin, Blackie Lysaght,
Gerry Cosgrave
344

Peter Greene, Ned ONeill,
Tom McSherry, DJ Cronin, - -,
Pat Deedigan, - -, Steve OShea,
Pat Harvey
345

Pat Hayes, Tommy McMahon, Tom Keogh
Naughton, Tony Hickey
346

Paddy Cuddihy RIP, Liam Daly RIP, Mick Meagher
347

Pat Deedigan, Sean Hickey,
Gerry Williams
348

Peter McNamara, passing out, Clonmel
349

Paul OBrien RIP, playing the Long Legged Woman dressed in Black
350

Pat Brinn RIP, Gay Twoomey RIP
351

Pat Brinn RIP, Tony Canning
352

Patsy Massey, Martin Behan RIP,
Andy Hussey RIP, Hughie Ryan,
Willie Massey, Mick McMahon,
Willie OConnell, Johnny Butler RIP
353

Paul OBrien RIP, Mick Brosnahan,
lunch on the range
354

Paddy Cleary, Cecil Healy RIP,
Cecil McMahon RIP
355

Pat Brinn RIP
356

Pat Nash GOCs,
357

Paul OBrien RIP, pasting up, Tony Millar
358

Pat Donnellan, Tommy Coughlan, Mick
Malone, Pat Collins, Barney Ryan
359

14th Rec Pln Ballingcollig, Pat Hanley
and Jimmy McCormack,
360

2nd Pat Hayes
361

Passing out Clonmel, 3rd Rama Walsh,
Lou Hayes, 8th Billy Curtin, 10th Jim
Sims, 12th Christian OBrien
362

Passing out Limerick, Brian Ryan,
Tony Byrnes, Dinny OKeeffe
363

Pat Brinn RIP, Pat Deedigan, pre check on the weapons
364

Brendan Connolly, Barney Ryan RIP,
Gerry Barry, John Cronin,
Cecil Healy RIP, Toddy Fitzgerald RIP,
Paddy Carmody RIP, Martin Ahern RIP, KevinHogan, Mick Brosnahan
365

B Coy on Parade
366

PAs on a Tommer, Stephen Kelly,
Willie Frawley,
367

John Tolton, Rama Walsh, Mark Somers,
Noel Kelly, Willie OShaughnessy, Butcher OGrady, Frankie Quinlivan, Paul Hogan,
Seamie Finucane, Liam OCallaghan, John Hartigan
368

Pat Deedigan
369

Pat Bourke, Tony Millar
370

John Lynch, Christy Coote, Pa Flynn
371

Paddy OConnor RIP Antoin OConnor RIP
372

Paddy Buckley RIP, Denny Walsh, Billy McNamara, Donie Ahern, - -,
373
Paddy Carmody RIP, Ber Gibney RIP, Mervyn Ambrose
374

Tommy Corbatt RIP, Pat Deedigan
375

Paddy McCauliffe RIP, - -, Bart Dillon RIP
376

Opening of the Taj, Jimmy Farrell,
Denis Carroll, Brendan OConnor,
Frankie Quinlivan, Ray Keane
with fag.
377

Butcher OGrady, John Hartigan,
Gerry Williams, John Relihan,
Con Leigh, John Fennessy,
Christy Coote, Donal OSullivanRIP
378

Pat Brinn RIP
379

One on St Patrciks Day Parade
380

ONE presentation, John Kelly,
Paddy McNamara, Jimmy Barry,
John ODonnell, Andy Murphy,
Paddy OConnor RIP, - -,
Mick OReilly RIP, Dave Gardiner,
Willie OConnor, Ollie Constable RIP,
Dessie Hyde RIP
381

Opening of the Taj, Ray Keane and Rama
Walsh entertain the troops
382

A Coy on Excercise
383

Mick Bullman, Blondie Fitzpatrick,
Gerry Ryan, Sean Callaghan,
John Hickey, Tom OLeary
384

- -, John Tolton, Sean OCallaghan, Brian Lynch, - -
385

Rama Walsh, Mikey McEvoy, Willie OShaughnessy, Mick Tobin, Dicky Doyle,
Jason Hannon, Mick OConnell
386

Terry Punch, Tex Regan RIP, Dave Constable
RIP, Mick Glancy RIP
387

Presentations to Pat Hanley,
Whacker Collopy, by Paddy Kelly,
Larry Johnson

388
Cyril ONeill, Eddie Carroll, Denis Walsh,
Gerry Hall, Willie OConnor, Stan Harte,
Pat OBrien, Pat Cunneen, PJ Hogan,
Frosty McCormack
389

Denis Carroll, Willie OShaughnessy,
Brian McMahon

390
Joe OLeary, Connie Nugent
391

Retirement of Joe Numbers Kelly,
including Brian Ryan, Colm Doyle,
Peter Daly, Rusty Keane, Mick Egan
392

Joe Kelly, Peter Daly
393

Looks like Lahinch, Tony Gardiner,
Butcher OGrady, Frank Sheehan,
Gerry Williams, Nicky McNamara,
Rama Walsh, Joe Kennelly
394

On the move, Noel OMara
395

Noel Moloney, Dicky Doyle, Ray Keane
396

Ned ONeill, Frank Fahy RIP, Jim Fanning
Clonmel pers
397

Niall Breen, Sean Hickey
398

Nicky McNamara, George Ryan,
Billy Butler, Pa Flynn
399

Noelie Meade RIP, Patsy Walsh
400

NCOs Mess Happy hour
401

NCOs Mess presentation,
Gerry Irwin RIP, - -, Mick Bullman,
Micky Purcell RIP, Paddy Gleeson,
Colum Ryan RIP, Terry Punch,
Ritchie Brennan, John Corrigan,
Tony Ledger, Cyril Shanahan,
John Mullane, Mick Meagher, Billy McNamara, Vinny Lyons, - -,
Gerry Frawley, - -, George Ryan,
Tony Stack
402

Pat Burke, Junior Ryan RIP, Gary Ledger,
Niall Breen, Mick Byrnes, Willie OConnor,
Tony Kelliher RIP
403

Stan hurley, Willie Quinn, - -, Noel Kelly
on his retirement, Peter Organ, Tony Daly
404

Noel OGrady RIP, Butcher OGrady,
Jimmy Cremmins RIP, Tony Gardiner,
Arty OGrady
405

NCOs in Kilworth, Gerry Mitchell,
Mick Bullman, John Power DSM RIP, Gerry Frawley, Cecil McMahon, Sean Hickey
406

Rama Walsh, Bridgit McCormack, Nicky McNamara
407

Rama Walsh, Gary OConnor

408

Rama Walsh, Mick OConnor, Denis Walsh RIP
409

Military Police night out
410

Mark Somers, Paul Ledger and
Terry Casey
411

John Thompson, John Molloney, John Tolton, Dermot Cummins, Willie Quinn
412

- -, Michael Noonan, - -, Jimmy Farrell
413

Murty Hanley
414

Noel Kelly
415

Mick ODriscoll, Paddy Mullins, Willie
Keane, Christy the Joker OBrien RIP
416

Mick ODriscoll, Alfie Earls, Paul Hogan,
Colin Haugh, John ONeill,
Mick OConnor
417

Mick ODonnell, Johnny Sticks, Vinny Lyons, Paddy Doyle
418

3rd Fld sigs, Mick Meagher, Ray Brady,
Liam Daly
419

Mick OConnor, Paddy Cleary
420

Mick OConnell, Tommy McMahon, Alfie Earls,
Pat Hanley, Johnny Cantillon
421

Pipe Band in Lourdes, Willie OConnell,
Seamie Martin, Peter McNamara, Pakie ODonoghue RIP, Tommy McMahon,
Mikes Kiely RIP, Mike McMahon
422

Mick Leamy RIP, Seanie Bond

423
Mick Leamy RIP, Windy Hogan, Sean Hickey
424

Philip Smith, Pat Hayes, Joe Curtin, Gerry OBrien, Gerry Barry, Pat Hinchy, John
Cawley RIP, Jim Lyons, Alec ONeill, Tony
Stack, Mick Noonan RIP, Eddie Deedigan,
Kevin Hogan, Johnny Barry RIP.
425

NCOs Course,
Front, Christy ODwyer RIP,
Pat Hayes, Fr Moriarty, Gerry OBrien,
Philip Smyth, Tommy Hartigan,
Eddie Deedigan, - -, Pat Hinchy,
Noel Walsh, John Bullman RIP,
Jim Lyons, Ritchie Brennan,
Johnny Barry RIP, Cecil McMahon.
Middle Row, Gerry Mitchell,
Christy Hanley, Davey Browne,
Junior Ryan RIP, Gerry Barry,
Harry Byrnes, Pat Ocallaghan,
Kevin Hogan, Mick Noonan RIP,
Joe Curtin, Maurice OLeary,
Tony Stack, Steve OToole,
Frank Walsh,
John
Cawley RIP, - -, Paddy Kelly RIP.
Back Row, George Ryan,
Paddy Kelly, Gerry Frawley,
Jimmy Barry RIP,
George Billy Bolger RIP, Enda Quaid,
Paul Small, Dave Gardiner,
Erclo DeVitto, Alec ONeill,
Gerry Hall, Tony Slattery, - -,
Danny Carroll.
426

NCOs Pln March Past
427

Pat Hinchy, Pat OBrien, Mattie Gardiner,
Liam OSullivan, Mick ODriscoll
428

Pat Hinchy, Gerry OBrien, Eddie Deedigan, Jim Lyons, NCOs Course
429

Pat Hinchy receives hi award
430

Organising the Gun Pull, Mick Brosnahan, Paul Hogan, Bobby McNamara

431
Mick Corbett, John Corbett, in the woods

432
Micky Cronin, Johnny Mullane
433

Presentation of Medals

434
Ger Fogarty,

435

436
John Lynch
437
Mick Nugent
438

Mick Kennedy McGyver RIP
439

Mick Deegan, John ONeill, Denis Carroll, Rama Walsh, Fr -,
440

Mick Fogarty RIP, Cyr Thompson, Ger Fogarty RIP, Mike Deedigan
441

Mick Fitzgerald, Joe ONeill, Colin Haugh
442

Mick Fogarty RIP, Paddy Murrihy, Goff Ledger, Jackie Ward
443

Mick OConnell out for a stroll
444

Mick OReilly RIP, Haugh broke the boiler again
445

Mick Finucane RIP, Derek Lambe
446

Mick Carroll
447

Mick Shine, - -,
448

Mick Shine
449

Mick Shine, Myrven Ambrose
450

Mick Shine
451

Andy Forrestal, Pat Prederville, Jim Fanning, Pat McGarry
452

Mick Finucanne, Liam Slattery, Rama Walsh
453

Mick Corbett, Willie Quinn, Paul Hickey, John Crotty, Nicky McNamara, Butcher OGrady, Jamie Keane, Mick McNamara, Mick Ryan, John Kelly, Tony Gardiner
454

A Coy Outing, can make out, Mick Hollywood, Mike Keane, Larry Hogan
455

Mike OConnor, Rama Walsh
456

Mike Keane, Joe Curtin, Pa Hogan, Tony Gardiner behind
457

Billy Bourke, Tony Cock Ryan RIP
458

Joe Fogarty, Mikey McEvoy, Ger Ossum Fogarty RIP
459

Mikey McEvoy Mess President
460

Gun Pull, John OShea, Paul Hogan,
Gerry Noonan RIP, Tony Deloughrey,
Declan OBrien RIP, Fitzy, Tom Leahy,
John ONeill
461

Jimmy OSullivan, Willie Frawley, Willie OShaughnessy
462

John Power waiting to receive DSM
463

John Tolton, John ONeill, Brian Lynch
464

Jackie Ward, - - Jimmy Nash RIP, - -.
465

Donal Looney, Kevin Hanley,
Tommy McMahon, lost in a field
466

Jimmy Kennedy, Joe Clark, John Kelly
467

Kevin Hanley, Marie Hanley, John Thompson

468
Kieran OConnell RIP
469

Kevin Hanley, Ronnie Flynn, Tony
Gardiner, Paul Ledger anf Frank Sheehan
470

Kevin Hanley, Rama Walsh
471

Paul Hickey, MJ Hogan, Billy 2 Beans
Kiely, PJ Hogan, relaxing in the Kitchen
472

Ken OBrien, calling in the take away

473
Larry Murphy receiving his medal
474

Larry Johnson, Willie Hogan, Paul Hogan,
Ken OBrien, Regan GOH
475

Liam Daly, Tony Deloughrey, Connie Nugent
476

Liam Slattery, Dom Walsh RIP
477

Liam Kenny, Rama Walsh, Mick ODwyer
478

Ken OBrien, Johnny Dillon RIP, 1976
479

Kevin Hogan on duty on the border
480

Liam Fogarty RIP, Ger Ossum Fogarty RIP
481

Liam OCallaghan, Willie OShaughnessy,
Ger Quinlivan, Angela Aylmer
482

Lunch Time on the Ranges, Dave
McInerney, Ger Carmody, - -, Gus
Donnelly, Donal Looney, Billy Curtin,
Danny Vaughan,
483

- -, Micky Cronin, Ken OBrien, Johnny McCormack, Clonmel 1976
484

Mick Gleeson, Tom Gleeson RIP, Paddy
Gleeson
485

GOCs march past, with Pipe Band and
A Coy
486

Married Quarters Families reunion 2016
487

Martin Hannon, Colin Haugh
488

Mattie Gardiner, Old Privates Mess
489

One Man Band in the Taj, Mick Bullman
490

John Corbett, Mick Corbett, Jamie Keane, Jimmy Keane
491

John Thompson, where is the grub lads
492

Mick Walsh RIP, Jimmy Wall RIP, Jimmy Nash RIP
493

Johnny Cantillon border duty
494

John Crotty, Donie Ahern, Jimmy Clancy, - -,
495

John Corbett, Mick Corbett, Dicky Doyle, Billy Curtin, Norman Walters RIP, Tony Gardiner
496

John Corbett, Mick Corbett, Tony Gardiner, Billy Curtin, Tony Hannon
497

Joe Clarke, Mick Duffy RIP, Jamsie Walsh RIP, - -
498

John Corbett, Mike ODriscoll, Joe Lysaght RIP, John Hickey, Ritchie Brennan
499

Jimmy Farrell, Vincent Savno, John OShea, Eddie OByrne, - -.
500

John Hartigan, Rama Walsh, Kevin Hanley
501

Jimmy Farrell, Vincent Savino
502

Punchy ODonnell, Jimmy Roche, - -, Cyril Shanahan, Tex ORegan, - -, Jackie Ward, - Costelloe, - -, Harry Naughton, - -
503

Willie Keane Stand Down Parade, JJ Killeen, Jimmy Farrell
504

John Lynch, Willie OShaughnessy, Frankie Quinlivan, 04 McCarthy, Butcher OGrady
505

John Murray, - -, - -, Sean OCallaghan, Brian Lynch
506

Andy Foran, Jimmy Ryan RIP, John OConnor, Paul OBrien RIP, Ken OBrien
507

Joe Curtin, Sean OCallaghan, Jim McNamara, GOCs
508

Joe Hayes and Gerry Carroll, enjoying a mineral or two
509

Philip Brennan congratulating John Fennessy on his retirement and state stripe
510

John Kett
511

John Mullane, John OMalley RIP, John ONeill
512

John Mullane and PJ Hogan providing the entertainment in the NCOs Mess
513

John Power RIP, Pat Rainsford, Mick Lysaght,
514

John Sweeney, Joe Kenneally, Larry Johnson, Windy Hogan, Danny Nugent RIP
515

Johnny Barry RIP in Poncho, Gerry Barry
516

Jonathan Gleeson, Roger Comte
517

John Laing RIP, Ray Hehir
518

Johnny McCormack
519

John Power RIP, receiving the DSM,
Paddy Kelly RIP with tray, Willie Keane
and
Gerry Kelly RIP in bearer party
520

- -, Johnny Hannon RIP, - -,
Martin Vaughan, Ger Lee, - -, Denny Sheehan
521

- - , Mick Dolan, Army Marksmen
522

- -. Mick Finucane RIP, GOH Duty
somewhere
523

Brian Bullman, Mick Bullman
524

Tommy McMahon RIP, Seamie Martin, Peter McNamara, in Lourdes
525

- -, Willie ONeill, Joe Power. Border Duty
526

Brigade HQ on Tour, - -, Paddy Franklin, - -, Tony Wallace, Tommy Boyce, Niall McMahon, Sean Gleeson
527

3rd ACk ACk Battery staff, Paddy Carmody, Danny Carroll, Mervyn Ambroese, Joe Hayes, - -, Ber Gibney RIP
528

3rd S&T Transport
529

3rd S7T staff ready forInspection, - -, - -,
Kieran McEvoy, Tommy Coughlan, John Hartigan, Cha Haran, Gerry Willimas, - -,
Tom ODea, Mick Malone
530

12 Bn Outing, Front, Johnny Butler RIP,
- -, Gerry Benson, - -, Micky McMahon RIP. Centre - -, Harry Naughton, - -, - -,
3rd Row - -, - -, - -, - -, - -, - -, Back - -, - -,
- -, Gerry Hanley RIP,Mathew Fitzgerald, - -
531

Willie ONeill, John ONeill, - -,
532

All Army Falling Plates Winners, Tony OSullivan, Kieran Jordan, Phoncie Franklin.
Gerry Barry, - -, Brian Lynch, Dave Kerin, Mick Constable, - -, John Tolton, Dermot McNamara
533


534

Pot NCOs Course, Paddy Gleeson, Pat Prenderville, - -, Tom McSherry, - -, Paddy McCormack RIP, Jimmy Cremmins RIP, - -, - -, Johnny Butler RIP
535

12 Bn Pipe Band, Pakie ODonoghue RIP, Gerry OBrien, - -, Hughie Ryan, Sean Flannagan RIP, Peter McNmara, Tony Healy, - -, Ger Hogan RIP, Martin Fitzpatrick
536

12 Bn Shooting Team, Sean Hickey, Neil McDonnell, John Cooney, - Dolan, - -, - Dolan, - -
537

12 Bn on the Ranges, Jason Hannon, Artie OGrady, Noel Kelly, - -, John ONeill, Fish Ahern, Blondie Fitzpatrick, - -, Tony Stack, Jerome Deloughrey
538

12 Bn Pipe Band, Willie OConnell, Mikes Kiely RIP, Seamie Martin, Mick McMahon, Niall Breen, Jim McNamara, Tommy McMahon,
539

100 Anniversary of Takeover of Barracks


540

14 Bn Staff, Tom OCallghan, Dave Hyland RIP, Andy Forrestal, Paddy Flynn, Sean Foley, Mick Daly, Gerry Kelly RIP, Tony Canning, Benji Leahy, Tony Hickey, Ben Murphy, Christy Hanley, - -, Tommy Boyce, - -, - -, - -, Aidna -, Pat Brinn, Mick Lane, Philip OSullivan, - -, John Fennessy, Gerry Mitchell, John Lynch, Noel Kelly
541

Benji Leahy checking his troops
542

17th Pln, any help with names.
543


544

22 Pln, John OHara, Gary Murphy, Colin Haugh, Tom OBrien, Thomas King, Ger Boland, Mike Murphy, Gay Mullally, Tony Slattery, Gary Kirwin.
545

John OHanlon RIP, Pat Delahunty, Dom Allen, Cecil Healy RIP, Ritchie Boland, Martin Culligan, Tommy Hudson, Jim Lyons


- Richardson, Ben OBrien, Pat McElligot, John Ahern, Gerry Ryan, - Lyons, Donal Hanley, - -.
547

Ron McDonald, Ken OBrien, Pat McElligot, - -, Robert Payne, Jim Boyle RIP. Ned ONeill, - -, - Lyons, Gerry Ryan, Denis Earls, Bobby Ryan, Horse Walsh, Freddy Kenny RIP, Donal Hanley, Tom Grace, Johnny Dillon RIP, John Ahern, Twiggy Ryan.


548

25 Pln passing out, March 1976. Back - Meagher, Kieran McEvoy, Denis Earls, Donal Hanley, - -, - -, - -, Gerry Ryan, Horse Walsh, 3rd Row Tommy Grace, Willie Massey, Bobby Ryan, Ger Frawley, Freddie Kenny RIP, - -, - -, John Ahern. 2nd Row Ben OBrien, Pat McElligot, Ken OBrien, - -, - -, Doc -, Johnny Dillon RIP, Jim Boyle RIP, Ronnie McDonald, Martin Culligan, Front, John Gilbert, Ned ONeill, - Richardson, - -, Twiggy Ryan, - -, Robert Payne,Tommy Hudson, - -, Gabby Whelan
549

John Lynch 30
550

Laying up of the 49th Bn Flag,
551
50th Pot NCOs Course, Gerry Quaid, Gerry Williams, Mick Malone, - -, - -, Gerry OBrien, Mick Finucane, - -, - -, - -, - -, 2nd Row Erclo Devitto, - Meagher, John Sweeney, Sean OConnor RIP, Mick Timmons, Mick OCallaghan, - -, - -, - -, - -, - -, Billy McNamara, Front Mick Bullman, - -, Cecil McMahon, - -, Freddie Bolger, - -, Paddy Kelly RIP, Gerry Barry, Pat OCallaghan.
552

66 Pln, Front, Tony Slattery, John Power DSM RIP, Joe Kelly, Sean OMeara, - -, - -, Larry OConnor, - -, - -, 2nd Row, Ray Hehir, Tony Stack, Mick Mulcahy, - -, Mick Brosnahan, - -, - -, - -, - -, - OLoughlin. 3rd Row Terry Casey, - -, Mick OConnell, - -, Frank Meaney, - -, - -, - -, Gerry OBrien, Back - -, - Price, - -, - -, Pat OCallaghan, - -, - -, - -, - -, - -,
553

90 Gun Pull, Connie Morrissey, Butcher OGrady, Gus Cleary, Slim Ryan, Mick ODonnell RIP. Paddy Considine, Declan OBrien RIP, John Mulready, Mick OConnell, Mick Woodland, Mikey McEvoy, Eddie Higgins
554

Dom Walsh RIP, Adrian Anglim RIP, Donal OSullivan RIP, - -,
555

Andy Forrestal, JJ Kelly, - -, Junior Ryan RIP, Tom Dower, Sean OMeara, - -, Exercise Shannon 1984
556

Kilworth Camp 75.
Front John Manning, Eddie Coady, Josh Carroll. Back, Muddy Mescall, Dinny Keogh, - Lynch, Emmet McINerney RIP, Pa ODonnell, Ger Boland, Richie Boland Podger OBrien RIP, Suki Naughton, Alexis Kelly.
557

Bobby -, - -, - -, Tommy Hartigan presenting Best trophies to a recruit Pln
558

PT Test walk up a mountain. Jerome Deloughrey, Willie OConnor getting in the fuel, Gerry Noonan, Niall Breen with sly look, Christy Coote,


559

No details on this
560

P Simey, S Smith, Paddy Kelly RIP, Paddy OHanlon, Christy Earls, P Mulqueeny, Paddy Doyle, Mick Shannon, D Mahon, Pat M
561

- Durkin ?, Mick McMahon, Kieran McEvoy
562

Sam Browne RIP, Pa OBrien, Sean Hickey, Liam OSullivan, Tony Canning, Johnny Barry RIP, Gerry Mitchell, Robie Robinson RIP, John Kett, Willie OConnell. On Border Duty, possibly Monaghan 1976
563

3 Generations, Alex ONeill, John ONeill, Charlie ONeill RIP
564

Build the Taj and they will come, Tommy Mulligan RIP, John Moore, Gerry Hayes, Pa Flynn, Joe Nash, Eugene Williams, - -, Colin Haugh, Gerry Long RIP
565

Signals PLn on R&R, Tony Hannon, Rory Flynn, Connie Morrissey, Noel OGrady RIP, John McCormack, Jamsie Walsh, Mick Moore RIP
566

Andy Cawley, Donal Looney, Shane Malone. God help ISIS
567

Comd Shoot Kilworth, Brian McMahon, MJ Hogan, Joe Ryan, - -, - -, Frosty McCormack, Cyril Shannahan, Billy McNamara, Peter Hogan.
568

A Coy Border Duty, Back - -, Ger Clohessy, - -, Eugene Small, - -, - -, - -, - -, Ger OLeary, Martin Ray, Pat Cunneen, John OMalley RIP, Front, Sean Hickey, - -, Larry Johnson, - -, Gunga Hayes, Ossum Fogarty RIP, Pat Harvey, - -. No names on the middle row.
569

GOCs for A Coy in the Gym, Tony Byrnes, Donal OSullivan RIP, - -, Billy Curtin, Willie OConnor, Brian Lynch
570

Peter Gunn, - -, Dinny OKeeffe, Seamie Finucane, Tony Hogan, Declan Fitzgerald
571

A Coy, on Border Duty 1976
572

Tommy McMahon, Stephen OGrady RIP, Willie Quinn, John Murray, Danny Vaughan, Mick Bourke, Tom Keogh, Mick OConnor, Dave Kerin, Shane Malone, John Corbett, Mick ODonnell RIP, Chris McCarthy, Frank Meany, Kevin Hanley, Mick Gleeson, - -, Pa OBrien, Spud Murphy, Willie Hogan, Declan Martin, Noel Meade RIP. Looks like Knockalisheen
573

A Coy, Tony OSullivan, Steve Keogh, Niall Breen, Gerry Willimas, Pat Dillon, Mike Keane
574

Tony Gardiner, - -, - -, Tom OLeary, John Moloney, Hank Butler, Seamie Finucane, - -, Pa OBrien, Terry Casey
575

A Coy on GOCs, Freddie does not look happy
576

Donie Ahern, Frank ORegan RIP, Jim McNamara, John Doyle RIP
577

Donal Looney in full voice
578

Gerry Barry carrying out TOETs
579

Ger Boland, roll your own
580

3rd Ack Ack Card game, Gerry Barry, Danny Carroll, Ben Gibney RIP, Joe Lysaght RIP, Tommy Boyce
581

Gerry Williams, - -, Liam Daly
582

--, Paul Hogan, Dusty OReilly, Paul Hogan, Frankie Quinlivan, Mick Gleeson,
583

Sean OMeara RIP, John Corrigan, Colm Doyle, Eamon Moriarty
584

A proud Tommy Boyce with his Son Jason and Willie ODea
585

John Cremmins and Ray Hehir
586

John Hartigan, Kieran McEvoy, 3rd S&T camp, Clonmel
587

John Moloney, Rory Flynn, Willie Quinn, 12th Bn elite guard
588

Junior Togher, Mick Malone, Kieran McEvoy, fitters and drivers armed and dangerous
589

Kieran McEvoy, Barney Ryan RIP
590

Butcher OGrady, Mikey McEvoy, Connie Morrissey, Ger Hartigan
591

Mick Corbett, Liam OCallaghan, Mick OCallaghan, Mick Deeg
592

Treaty 300 staff, Mick Carroll, Paul Hogan, Tony Hannon
593

MJ Hogan wishing Mick Egan a happy retirement
594

Paul Hickey, Tony Cusack, Tom Corbett RIP, Mick Carroll, Tony Gardiner, Gerry McNamara, Spud Murphy, Gerry OBrien, Stephen Boyce, Martin Hourigan, Dave ODwyer
595

Pat Nash opening the Barrack Museum, Stephen Kelly watching on
596

Paddy Franklin, Joe Hayes, Gerry Carroll
597

Paul Hogan, Mikey Cronin, Peader Fahy
598

Peter Organ, Cyril Shannahan
599

Ray Smith
600

Alec ONeill, Joe Ryan, Gerry Carroll, Mikey McEvoy, Cyril Shannahan, Mick Woodland, Bob Ryan. Retirement Party
601

Sean OCallaghan, Butcher OGrady, Mikey McEvoy, Ben Murphy, Ger Hartigan
602

Stan Hurley, Noel Kelly
603

Willie ODea and 12th Bn troops
604

A Young Bill Hillard RIP
605

Andy Tier RIP, Mattie Gardiner, Sonny Deloughrey RIP

606

Connie Morrissey on parade
607

Aidan Anglim RIP, Dom Walsh RIP, Donal OSullivan RIP
608

- -, Rasher Byrnes, John Thonpson, - -, - -, - -, Tadgh McCarthy, Alfie Earls. Joe Morrisey, - -, - -, Andy Tobin, - -, Donal OSullivan RIP
609

Andy Richardson receiving the Con Dee Cup from John Dee
610

Annual Range practises for HQ Coy, standing Mick Carroll, Eugene OConnell, Andy Foran, Jimmy Ryan RIP, John OConnor, Paul OBrien RIP, Ken OBrien. Mick OBrien on the left
611

Anti Riot drill
612

Arti OGrady, Tony Gardiner, Tommy Carroll RIP, Paddy Considine
613

Brigade Arm Wrestling Championship, Blackie Lysaght v Cecil McMahon,referee's Pat Rainsford and Ray Frawley RIP, find it very funny
614

Colin Haugh, Toddy Fitzgerald RIP
615

Liam Kenny playing with the 84
616

Brian McMahon nad Ken OBrien heading out for a few pints
617

Feeling the love in the Signals Pln, Butcher OGrady, Brian McMahon, Cyr Thompson
618

Paul OBrien RIP, Rocky Ryan RIP looking out, Jim Lyons
619

Mick Egan playing the pipes
620

Billy Butler, Rory Flynn
621

Bill Hillard RIP, - -,
622

Sylvie Callaghan, JJ Ruane, Christy Coote, Mick Considine, Tony OLoughlin, Mick Nolan
623

Front Jerome Deloughrey, John Power RIP, Joe Kelly, Sean OMeara, - - , - -, Larry OConnor RIP, Noel Walsh, gerry Shine. 2nd Row Ray Hehir, Tony Stack, Mick Mulcahy, - -, Mick Brosnahan, - -, - -, - -, - -, - OLoughlin. 3rd Row Terry Casey, - -, Mick OConnell, - -, Frank Meaney, John Moloney, - -, - -, Ger OBrien, Gerry Barry. Back Row - -, John Price, Tom Keogh ?, - -, Pat OCallaghan, - -, - -, - -, - -,
624

Barney Ryan RIP
625

Barrack gettogether , Dermot Hickey and Mattie Gadiner in green jumpers second row. included are, Mike Deedigan, Cyr Thompson back row. Paddy OConnor and Christy Pickford on right of picture. Johnny Butler RIP next to Mattie, Martin Behan, Pat Cunneen in centre Scotchie OConnell, Billy McGrath, Scotchie Hughes seated. Ned Deedigan, Joe Gradiner and John Doyle front. Mick Fogarty behind the head of the Guitar. See Tall tales from the Barrack Square for a story from this night.
626

Bearer Party GOCs, Brian Ryan, Freddie Bulger, Frank Houlihan, Sean Hickey, Blackie Lysaght
627

Announcing details of the Treaty 300 Ball, Celia Holman Lee and models, Tony Daly, Dave Hyland, Philip Smith and Piper Mick McMahon
628

Bengi Riordan and Eamon Moriarty RIP
629

Ben Gobney RIP, Paddy Cuddihy RIP
630

BFW Retirement, Gerry Irwin RIP, Jackie Ward, Joe OCallaghan, John Cronin, Kevin Walsh, John OBrien, Eugene Williams, John Moore, - -, - -, Mick ORiordan, Micky Purcell, Gerry Hayes, Freddie Murphy RIP, Pat -, Cecil Healy RIP, Jackie McKnight RIP, Tom Gillick RIP, Paddy Touhy RIP, Tommy Mulligan RIP, Noel -, Gerry Long Rip, John OReilly RIP, - Dillon,
631

Opening of Taj, Tom Gillick RIP, Jackie McKNight RIP, Noel -, - -, Freddie Murphy RIP, - Fitzgerald, John OBrien, Paddy Touhy RIP, John Moore, Eugene Williams, Tommy Mulligan RIP
632

BFW Staff, included, Jackie Ward, John OBrien,Paddy Touhy RIP, Micky Welton RIP, - Dillon, Tommy Mulligan RIP, Paddy McAulliffe RIP, Micky McMahon RIP, Jackie McKnight RIP
633

BFW, Gerry Irwin RIP, Micky McMahon RIP, Tom Gillick RIP, Tony OSullivan, Tom Costelloe, John Moore,Pa Flynn, Freddie Murphy RIP, Eugene Williams, Gerry Hayes, Cecil Healy RIP, - -, Tom Corbett RIP, Jackie Ward, Paddy Gleeson, Noel -, Micky Purcell, Tommy Mulligan RIP, - -, John OReilly RIP, Jackie McKhinght RIP, Gerry Long RIP
634

Bill Dollard, Gustav firing
635

Bill Dollards retirement, Front Barney Ryan RIP, Tony Cock Ryan RIP, Pat McNamara, Noel Pearse RIP, Bill Dollard RIP, Paddy Kelly RIP, - -, Mick ODonnell, Jimmy Barry, 2nd Row, Gerry Mitchell, Mick OReilly, Paddy Doyle, Willie Keane RIP, Tony Quilty RIP, Harry Naughton, Peter Kenny, Frank ORegan RIP, - -, - -, 3rd Row Kevin Hayes RIP, Ned Long, Sean Foley,Billy McNamara, Joe Hayes, Gerry Benson, Terry Punch, Pat Cuneen, Tony Kelliher RIP, Mick Behan, Cyril Shanahan, Pat Hayes, 4th Row, Mathew Fitzgerald, Tom Gleeson, Tom Dower, Paddy Gleeson,Tony Millar, Ray Smith, John Jo White, Mick Malone, Paddy Franklin,Back Row, - -, Pat Hinchey, Jim Ryan, Mick OBrien, Aidan Anglim RIP, Vinny Lyons
636

Bill Hillard and Mick Behan at the Ranges
637

Tony Daly recieving new Coy Penant, Gerry Barry
638

Bill Hillard
639

Blondie feeds the troops, Blondie, Fitzpatrick, Stan Hurley, Noel Kelly, Mike Bourke, Hank Butler, Willie Quinn
640

Billys Crew, Billy McNamara, John Crotty, Patie ODonoghue RIP, Ger Frawley, Dermot McNamara, John Laing RIP, Ray Hehir
641

Billy Keanes stand down, included Rama Walsh, Dicky Doyle, Robert Gardiner, Jon Moloney
642

Bishops GOH, St Johns Cathedral, Mick Woodland, Sean OCallaghan, Eddie OByrne, Andy Tobin, Billy McNamara, Spooner Ryan, Mick Brosnahan, - Kelly, - -, Paddy Considine,
643

Gunga Hayes, Ossum Fogarty RIP. maintaining the Capt Thomas Keane Marker
644

Mick Reddan, - -, Brian McMahon, Peader Fahy, Mick Rid, Terry Punch, Martin Fitzpatrick, Willie Treacy, Martin OConnor, Brian Lynch, Mick Lysaght
645

COs on Parade, JJ Kelly, - -, - -, Bernie - ,Jimmy Farrell
646

Blondie posing in Kilworth
647

Brian OConnor, Ritchie Brennan, Liam Hartley RIP
648

Colin Haugh in drag on COs
649

Noel Butler, Mick Reddan, Frankie Quinlivan, Rama Walsh, Charlie OLeary, pre match warm up.


650

Engineers talk, Mick ORiely RIP, - -, Murty Hanley, Tommy Mulligan RIP, Paddy McAuliffe RIP


651

12 Bn on Parade
652

Officers on Parade, posibly 50th again
653

Tony (Cock) Ryan RIP, Kevin Walsh RIP, Johnny Organ


654

Full 12th on GOCs Parade
655

T Hartigan, Peter Green RIP, Pat Deedigan, Ned ONeill, DJ Cronin, - Kearney, - Harris, Pat Harvey, Steve OShea
656

2nd Left back, Emmet McInerney, 4th Left back Christy Pickford.
657

The 3 Boyce's Tommy, Jason and Stephen
658

BQs Staff outing, Togsie Cunneen, Ray Hehir, Tony Kelliher RIP, Brendan Connolly, Frank Sheehan
659

Brian Ryan, presents to Charlie Haughey, with Jimmy Farrell looking on
660

Barney Ryan RIP, Frank ORegan RIP
661

Stephen OGrady RIP, Stephen OConnor RIP
662

Maj Gen Savino gets a pint from Willie OConnor, Pakie Noonan RIP, Declan Fitzgerald look on. Opening of Taj
663

Joe Hyde and Tommy Hickey on the Brens
664

Brian Reade receives the Nobel Peace Medal
665

Paddy Flynn breifing the troops in Kilworth. Looking on, Niall Gorey, Terry Casey, - -, John Moloney, Paul Ledger, Jerome Deloughrey, - -, Dusty Oreilly, Mick Corbett, Seamie Finucane, Noel OMara, Mick Deegan, - -


666

Jimmy Farrell, Gerry McMahon, Colm Doyle
667

Bushmills RIP and Rama
668

- -, Butcher OGrady, John Murray and Tommy Boyce
669

Butcher OGrady, Mick McMahon
670

Butcher OGrady, Willie OShaughnessy, Windy Hogan, Ray Hehir
671

Butcher OGrady and Family
672

- -, Christy Tydings, Tony Slattery, Ger Shine, - -
673

FCA Cadres on Parade
674

Repairs in Barracks
675

Christy Enright RIP, Pat Deedigan
676

John Lynch, Rama Walsh, Josh Carroll, Mousey thompson, Brian McMahon, Noel Kelly, Peader Fahy, Nicky McNamara
677

Brian McMahon, Noel Kelly, Peader Fahy, Seamus Finucane, Dave McInerney, Nick McNamara, Rama Walsh, Andy Cawley
678

Celebrating on the range,
679

Cecil Healy RIP, Paddy McAuliffe RIP, Gerry Hayes
680

Frankie Quinlivan, Colin Haugh, Tommy McMahon, Martin OConnor
681

Charlie Haughey, opening of Milk Market
682

Terry Harris RIP and Charlie Hennigar checking out the demolished Petrol Pump station
683

Dermot Murphy escorting Chauchescu, Gerry Barry on right
684

Chauchescu visit, includes, Pat Prenderville, Kevin Hayes RIP, Mick Oriordan, Pat Deedigan, Bob Ryan RIP, Dermot Murphy escorting officer
685

MJ Hogan, Mousey Thompson, Paul Ledger, down time at the Christmas party 19
686

Cheque Presentation , - -, John Thompson, Blondie Fitzpatrick, - -, John Hartigan, - -, Butcher OGrady, Willie OShaughnessy, Mick Carroll.Noel Kelly, Mark Sommers, John Moloney, Willie Treacy
687

Choir Practice
688

Larry Hayes RIP, John Corrigan, Peter Daly, JJ Kelly, Colm Doyle, Fintan Molowney, Mick Egan, Philip Smith, - -, Brian Reade, Tony Daly, - -, - -, Christmas Dinner for the Troops, hard to get good waiting staff
689

Limerick City Christmas Run, front to back, Gerry Williams, Gary Ledger, Paul Ledger, John Corbett, Hughie Ryan, Willie Quinn, Jerome Deloughrey, Tommy Boyce, Mick Carroll, Donal Looney. Also included, Race starter Paddy OConnell, the Well Cabs top is worn by Peter Hogan, brother of Freddie the Fox Hogan
690

Gerry Williams, Gary Ledger, Paul Ledger, John Corbett, Hughie Ryan, Willie Quinn, Jerome Deloughrey, Tommy Boyce, Mick Carroll, Donal Looney

691

Christy Joker OBrien RIP, Timmors McCarthy, Ray Keane, Brendan OConnor
692

Pipers Cian McCarthy, Noel McCarthy
693

Con Leigh, B OLoughlin, Tom Vaughan, Tony OLoughlin
694

Clem OLoughlin, Joe Gardiner RIP, Aidan Anglim RIP, Jimmy OSullivan, Fionn OLoughlin, Tommy Farrell.
695

Connie Morrissey, Ben Murphy, Mikey McEvoy
696

At home on the Range, Connie Morrissey, Mick OConnell, Mick Considine ?, Ken Obrien, - -, Noel OMara, Mick Hickey, Donal Looney
697

Connie Nugent, Tony Deloughrey, Joe OLeary

698
Connie Nugent and Tony Deloughrey
699

Tommy Hartigan, reviewing a passing out parade in Clonmel. DJ Cronin behind him
700

Colin Haugh and Rama Walsh digging in in Kilworth
701

Colin Phillpott, Paulie Power, Mark Sommers, - -, Pat OHalloran, Eamon Buckley, Steve OConnell
702

Colum Ryan RIP, Junior Togher, Mick Durkin
703

Eoin Lynch RIP and Charlie ONeill RIP. Not sure if this is the UN Peace Medal or the 50th Anniversary
704

Cook on Parade
705

Paul Fitz and Mick Reddan cooking for the RDF
706

John Corrigan and Frank Fahy RIP in Shannon
707

Cover off to the left, Gerry Barry to front, I think the NCO is Johnny Barry RIP
708

Cyril Shanahan Stand Down Parade.
709

Cyril Shanahan, Tommy Naughton, retirement, Colm Doyle
710

Dominic Walsh RIP, Paul Smalle, Tony Keane, Jimmy Roche, Joe Blake RIP
711

Painting by Danny Vaughan, Copyright Danny Vaughan
712

Blues Brothers, Donal Looney and Rama Walsh
713

Painting by Danny Vaughan, Copyright Danny Vaughan
714

Davey Finn
715

Painting by Danny Vaughan, Copyright Danny Vaughan
716

Dave McInerney with Styer, Tony Stack reading the take away menu, Tony Ryan looking away.
717

Departure of Jhn Paul 11, from Shannon Airport, Escorting Officer Dermot Murphy, John Cawley on left with mustache.
718

Denis Walsh handing in his kit after 41 years Service
719

Denis Walsh at his retirement party
720

Dave McInerney cleaning down his FN
721

Davey Finn on left
722

Dir of S&T inspection of 3rd S&T
723

- -, Tony Hackett, Dave Kerin, Donal Looney, Gerry Barry, Ned ONeill, Rama Walsh, Ger Fitz
724

Dave McInerney, Gerry OShaughnessy Limerick Leader, Declan Obrien RIP, Frank Greaney. Making a presentation to the Limerick Leader for their continued supply of the Local papers to the Leb
725

Danny Nugent RIP and Mick Carroll on the occasion of receiving their State stripes
726

Donal OSullivan RIP, William Billy Bushmills McNamara RIP
727

Dusty OReilly, Butcher OGrady, Rama Walsh
728

Donal OSullivan RIP, John Hartigan, Gerry Williams, George Ryan, John Fennessy, Butcher OGrady
729

GOCs Barrack Gym, Mick egan, Frosty McCormack, Eddie OCarroll, Gerry Benson, Christy OConnor, Vinny Lyons, John OMahoney, Billy McNamara
730

Presentation of DSM to John Power RIP, Paddy Kelly RIP with tray, Eoghan South photographer on right, Flag Party Willie Keane, Gerry Kelly RIP, Harry Naugh
731

GOCs Barrack Gym, Barney Ryan RIP, Joe Lysaght RIP, John Lysaght, Mervyn Ambrose
732

Connie Morrissey in the Signal Stores
733

Ex Faranfore, lunch time, Paul OBrien RIP, Ken OBrien
734

Mike Woodland, Mikey Cronin
735

Dusty OReilly, Mousey Hannon
736

Dusty OReilly on duty
737

Eddie Byrnes RIP and Cecil Healy RIP, resting at the back gate
738

Eddie Small, Cootehill
739

Danny Nugent and Aidan Anglim, both RIP
740

Paul OBrien, Range scoring, Tony Millar
741

Moving of Military Cannons to Hunt Museum, Eddie Higgins and Colm Doyle supervise
742

Moving Cannons into place
743

Emmet McInerney, - -, Christy Pickford, - -
744

Engs, Murty Hanley, Paddy Gleeson, Mick Purcell, John Cronin,

745
Eugene Shannahan, Pat Deedigan, Rama Walsh, Kit Kat tasting
746

Ex Faranfore, troops on the square Ballymullen
747

Pln in attack excercise in Kilworth
748

I'm sure they are around here, there are the exercise marshalls.
749

Can we fire now
750

Denis Carroll, Willie OShaughnessy, Pat Hanley, Butcher OGrady, the Sarge moving right and Declan Fitz leaning on the landrover
751

Denis Carroll, Butcher OGrady, Willie OShaugnessy, Jimmy Noonan, Rory Flynn, Johnny McCormack, Pat Hanley, Dessie Hyde RIP, Mick Egan. In the background, Deccy Fitz, Billy Kiely, Cyril ONeill, Larry Johnson
752
Liam Slattery, Rama Walsh, John Thompson, mind the gate

753

FCA Cadres march past
754

Front, Pat Deedigan, Noel Roche, Con Leigh, - -, - -, Colm Doyle, Mick Shanahan, Christy Enright RIP. Back - -, John French, Tom Vaughan, - -, Mark Anthony Ryan, Christy Coote, Synan OCallaghan, - -, - -, - -, - -, Harry Byrnes, - -,
755

Feeding time, Kilworth, Donie Ahern, Kevin Hogan, Pat Hogan, Noel Butler, Ken OBrien, Martin Drohan
756

Field Kitchen, Mick Hogan, Jim Kelly, Cyril McSweeney, Gerry McNamara, Pat Cunneen, Joe Touchstone RIP.
757

Presentation to GOC,
758

Frank Kiely RIP, Kieran Jordan, Mike Lysaght
759

Bearer Party GOCs, Jimmy Farrell, Brian Ryan, Freddie Bolger, Frank Houlihan, Sean Hickey, Blackie Lysaght
760

Eddie Carroll, Gary Ledger, Tony Daly, Declan Fitzgerald, Martin Horrigan, Willie Quinn, Terry Casey, Seamie Finucane, Tom OLeary, Christy Lynch, John Moore, Brian Lynch, Pennat Bearer Joe Ryan
761

Jimmy Farrell inspecting the Bearer Parties, Frank Houlihan, Eddie OCarroll, John Mullane, Tom OCallaghan, Christy OConnor, Pat Cunneen, Kieran Jordan BN CO
762

Fintan Molowney, Eamonn Moriarty RIP, - -, - -
763

Eddie Johnson and Mick Carroll, Annual Range Practises
764

Blackie Lysaght on parade. Phoncie Franklin Sgt Major
765

Frankie Quinlivan, Martin OConnor, Butcher OGrady
766

Frank Meaney,
767

Frankie Quinlivan, Colin Haugh
768

Frosty shows off the Black eye, that Karen gave him
769

Frank Greaney, on stand by in Shannon
770

Frankie Quinlivan, Gerry Williams
771

Freddie Bolger, Willie Keane, Harry Naughton
772

Frosty McCormack, Tommy Boyce
773

Frosty McCormack, Terry Casey, Mick Rid, Andy Cawley
774

Frosty McCormack, John Mullane, John ONeill
775

Mick Egan, pipes out Johnny Butler RIP.
776

Visit of John Paul 2, George Bolger RIP, Robbie Robinson

777
Back Left John Casey, front left Frankie Connolly, Declan Moore, Pa Coyle
778

Andy Richardson, George Ryan
779

Ger Guinane, Tony Ledger, Pat McCormack, Peter Organ, Pat Deedigan
78

Martin Gardiner, Ger Hartigan
781

Gay Mullally, Gary Murphy, Ger Boland
782

G Buckley, Pakie Kelly

783
Gerry Golly Collins, Gerry Coyle, Willie Bennett
784

Visit of George Foreman, Tony Deloughrey, Mattie OBrien, Cyril Shanahan, MJ Hogan, Frank Greaney, Mick Hickey, Bushmills McNamara, Jerome Deloughrey, - Kelly, Willie Treacy, Noel OMara, Hughie Ryan, John Thompson, Tony Hannon, Butcher OGrady, Jimmy OSullivan, John Moore, John Hartigan, George Ryan
785

Frankie on the range, Kilkornan

786
Frankie minding the Officers
787

Mick Egan, makes a presentation to Gerry Thompson
788

Gerry Thompson burning the stores in Kilworth to keep warm

789
Gerry Leo RIP, Whacker Collopy, Butcher OGrady
790

Back Row, 3rd Saw Leamy, 6th Billy Curtin, 7th Christian OBrien, 13th Ger Gardiner, 2nd Row, 5th Rama Walsh, 12th Anthony McNally, 13th John Mulready, Sean Gosgrave, Front, 12th Mick Flemming,
791

Ger Obrien, Tony Ryan, Declan Fitzgerald, Nicky McNamara, Bobby McNamara, John Moore
792

GOCs in Barrack Gym, Mick Egan, FRosty McCormack, Eddie OCarroll, Paddy Kelly, Gerry Benson, Christy OConnor, Vinny Lyons, John OMahoney, Billy McNamara
793

Gerry Irwin RIP, Mick OReilly, John Mullane, Martin Bedford
794

Rory Flynn, Johnny Mullane, Dermot McNamra, Tom Dower, Mick Carroll
795

Mick Troy, Billy McNamra, Tony Stack, Mick OBrien
796

Shamrock Parade, Ger Hartigan, Eddie OByrne, Freddie Bolger, Father Shinnors ?
797

Gerry Hall, Jim Lyons, -Michael Treacy
798
Gus Donnelly on duty in Kilworth again
799

Rusty Keane, Noel Moloney, Ger Hartigan, Gerry Ryan, Mick Kennedy, Mick Byrnes
800

GOCs June 2016, Willie Quinn, Mark Somers, Rama Walsh, Seamie Finucane, Ger Carmody, Jason Boyce

801
GOCs B Coy
802

GOCs 1986, Mick Egan, Tony Gardiner, Noel Kelly, Sean Hickey, Paul Small, Ger Hayes, John Corbett, Jamsie Walsh, Tony Millar, Paddy McCormack RIP,
803

Seamie Finucane, Jimmy ODonoghue, Frank Bennis, John Tolton, John Corbett, Paddy McCormack RIP, - -, Noel Kelly, Tony Byrnes, Joe Morrissey
804
GOH for Mary Robinson, Arthurs Quay,
805

Chauchescu visit, Dermot Murphy
escorting, Tommy Naughton,
Pat OBrien, Martin Culligan
806

GOH rehearsal on the square,
Brian Ryan OiC

807
Mikey McEvoy, IWA driver
808

Willie Keane RIP, discussing details
with the GOH Officers, Sean Fitzpatrick
on right. Larry Johnson, John OHara,
looks like Timber ONeill behind
809

From left, Pat McGarry, - -, - -,
Cecil McMahon, John Cooney,
Eamon Mullane, Skippy Kelly RIP,
Mick Carroll, Maurice OLeary,
Tony Hogan,
810

GOH, Milk Market, Right, Pat OBrien, Niall Breen, Gary Ledger, Shane Malone, Left Ken OBrien
811

George Ryan, Cha Haran,
Tony McNamara RIP
812

Shooting Teams, including,
Donal Looney, Rama Walsh,
Dave Kerin, Ben OBrien,
John and Joe Cooney
813

Guard room Kilworth
814

Gun Pull Sarsfield Barracks, Blues,
Pat OBrien, Mick Carroll,
Mick Brosnahan, Colin Haugh,
Mick OConnell, Liam OCallaghan,
Frank Greaney, Eddie Higgins,
Butcher OGrady, Gussie Cleary,
Willie OShaughnessy, Whites,
Paddy Considine, - -, Bobby McNamara,
Tom Leahy, Mick McEvoy,
Sean OCallaghan, Paul Hogan,
Declan OBrien RIP, Brian McMahon,
Reds Mick Troy, Tommy Boyce,
Mick Woodland, Tony Cusack,
Noel Moloney, Martin OConnor, John Mulready
815

John OMalley RIP, Mick Finnan,
Noel Ahern RIP, Tony OSullivan,
Pakie Kelly, Christy Kelly RIP

816
Front, Jamie Keane, Nicky McNamara, Gerry Williams, Sean Hickey, Donal Enright, Happy ODwyer, Denis OKeeffe, Back, Dermot Cummins, Eamon Mullane, Billy Butler, Tadgh McCarthy, --, Denis Ryan, John Moloney, Donal Looney, John Lysaght, Rasher Byrnes, Gus Donnelly
817

Happy ODwyer RIP and Tawsey
818

Barrack BBQ

819
Get together Taj
820

Dir S&T inspection, included, Harry Naughton, Paddy Fennessy, Mick ODea, Anthony Hayes, Paddy Howlin, Blossom OMahoney
821

Hide lads, they are coming
822

Here they come
823

Sean Hickey hand on head, Pat Dillon, Gerry Hall,
824

Freddie Bolger, Willie Keane, Harry Naughton
825

HQ Coy on Parade, Rusty Keane,
826

Patsy Walsh, Willie Keane, Billy McGrath,
Cyril McSweeney RIP, Rama Walsh
827

John OMalley RIP, Jim Moloney,
Willie Keane, Billy McGrath,
Tony Jackson RIP, Cyril McSweeney RIP,
Tony Liddy, John McCarthy RIP,
Jim McNamara
828

Tony Liddy, Pat OBrien, Blondie Fitzgerald, Tony Stack, Alfie Earls, Pat Deedigan, Tony Ledger, Billy McGrath
829

Cyril McSweeney RIP, - -, - -,
Johnny Butler RIP
830

Johnny Cantillon
831

Jerome Deloughrey, Pat OBrien,
Stan Hurley, Duckie Lyons,
Norman Walters RIP, Pat OCallaghan
832

Joe Curtin, Sean OCallaghan, GOCs
833

Mick McMahon, Johnny Cantillon
834

Johnny Cantillon returning parade
statement
835

Johnny McCormack, Colin Haugh
836

John McCarthy, Christy Bardini,
Peader Fahy

837
Paddy Murrihy, John ONeill,
Hubie Bolger RIP, - -, Tommy Hickey RIP,
Noel Ahern RIP, John Power RIP, - -
838

The Jackson Brothers
839

John Bullman RIP, Jimmy Roche,
Dessie Hyde RIP, Paddy OConnor, - -,
- Massey, Rocky Ryan RIP. Matt OBrien escorting officer
840

John Cremmins, Donie Ahern, John Ahern, Will ONeill, Toddy Fitzgerald RIP, John ONeill